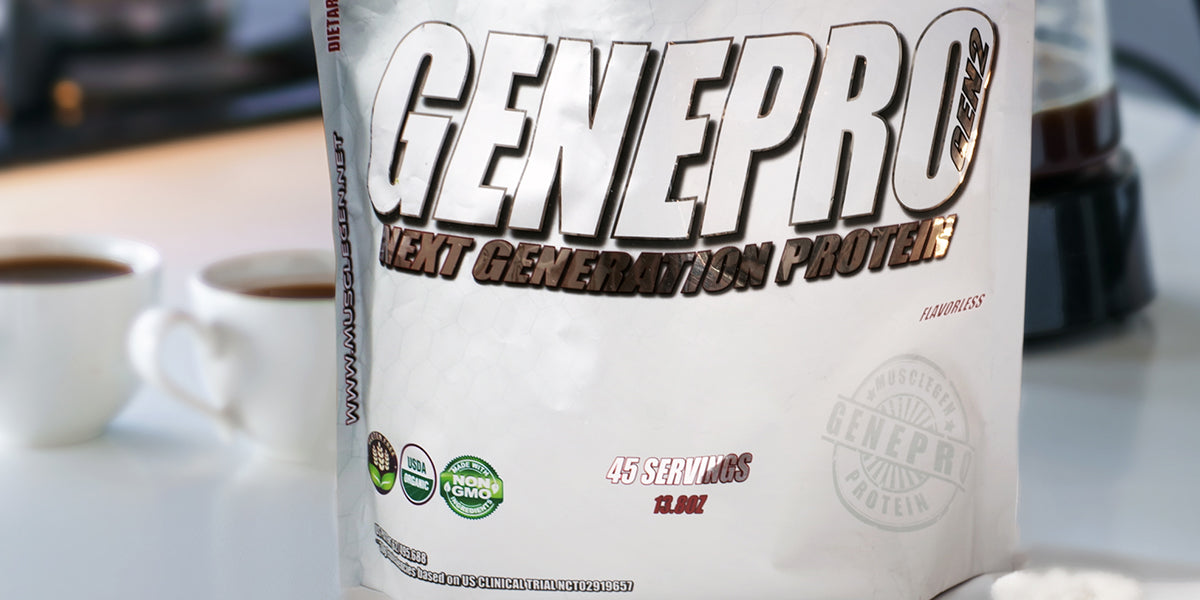 One of the best parts of our work here at GENEPRO is getting messages from our customers, thanking us for helping them reach their goals. The interesting part about this is how they come from  all  walks of life. We got our start many years ago in the supplements and bodybuilding industry but soon came to realize the importance of clean protein for literally anyone.
Hearing customer feedback has led us to continually improve GENEPRO, whether it's changes to the manufacturing process, amino acid profile, or the packaging. Ultimately, our goal is to make the best protein powder for everyone. 
In this blog, we will highlight 3 types of sucess stories to give you a sense of how you can use GENEPRO to add protein to any diet, the easy way!
GENEPRO for a Pescatarian Diet
This first success story features a customer who recently switched to a pescatarian diet. Getting all the protein she needed in a day sometimes could be quite difficult. She says that it's absolutely amazing and completely changed her daily protein intake. The way that she uses GENEPRO is by adding it to her oatmeal once a day.
GENEPRO for a Truck Driver Recovering from Weight Loss Surgery
Eddie is a truck driver, an occupation in which finding healthy food options is extremely difficult while on the job. When he was recovering from weight loss surgery, he found getting enough protein to be extremely difficult. After weight loss surgery, digestion can become more difficult. In addition to that, different foods and tastes can become repulsive. Luckily, Eddie found the unflavored GENEPRO protein to do the trick and helped to fulfill his protein needs.
Losing 170 Lbs with the Help of GENEPRO
We were so happy to hear this one customer story in which she was able to lose 170 lbs with the help of GENEPRO. The challenge for her was to reach the protein goals of her diet after surgery: "the protein goals seemed impossible without premixed shakes. When i started drinking those pre-made shakes, they did not settle on my stomach." Eventually, her nurse recommended GENEPRO to her, which she says is now an absolute game-changer. 
6-Year GENEPRO User Who Hates Traditional Whey Protein Powder
Andrew likes to work out and had previously tried traditional whey protein powders and says that they typically "weigh heavy on your gut." Andrew made the switch to GENEPRO because his preferred method is combining it with a sports drink, such as gatorade saying that "it has helped tremendously in my fitness journey and in general life."
Do you have a GENEPRO success story that you'd like to share as a contribution to our blog? Want a free bag of GENEPRO? 
Email: philip@geneproprotein.com with the text "GENEPRO Success Story" somewhere in the email subject line. Please understand that we cannot accept all submissions (subject to review by staff), but if we choose to use your story in a blog article, we will send you a free 45-serving bag of GENEPRO! ($50 value).  
Please include the following information in your email:
At least a 500-word story of how GENEPRO has helped you reach your goals. 

Please include a picture of yourself.

Optional: please include a video testimonial (about 1 minute long) of how GENEPRO has helped you. 

Note: we may use your testimonial, picture, and video in our marketing material.